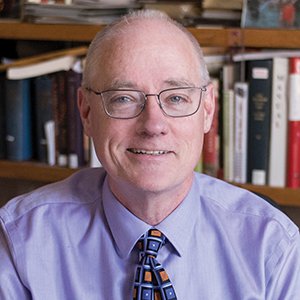 Email:

Phone:

(812) 855-4199

Location:

Jerome Hall Law Library 101M
Education
Hampshire College B.A. 1980
Indiana University M.L.S 1983
Biography
Dick Vaughan joined the Law Library staff in 1990, bringing his broad experience to the technical services department. As the acquisitions and serials control librarian, he oversees both the financial and procedural aspects of the area.
Active in university and national committees, he has served on the Bloomington Library Faculty Council and has chaired the American Association of Law Libraries (AALL) Committee on Relations with Information Vendors (CRIV) as well as the AALL Price Index for Legal Publications Advisory Committee. Long active in the relationship between law libraries and legal publishers/vendors, he has twice served as editor of The CRIV Sheet newsletter.
Although he has written numerous articles on issues within law librarianship, his research centers on the life of George Bird Grinnell (1849-1938), American ethnologist, naturalist, writer, and newspaper editor. He is currently working on a biography of Grinnell. His most recent Grinnell related publication, "To the Ice: George Bird Grinnell's 1887 Ascent of Grinnell Glacier," can be found in the Journal of the West (v. 49 no.1).
Selected Works
Nepal, Sri Lanka, Thailand (compiler) in GUIDE TO OFFICIAL PUBLICATIONS OF FOREIGN COUNTRIES (Gloria Westfall, ed., 2d. ed. 1997).
Preservation Awareness Campaigns at the Indiana University Libraries-Bloomington in PROMOTING PRESERVATION AWARENESS IN LIBRARIES: A SOURCEBOOK FOR ACADEMIC, PUBLIC, SCHOOL, AND SPECIAL LIBRARIES (Jeanne M. Drewes and Julie A. Page, eds., 1997).
Broad are Nebraska's Rolling Plains: The Early Writings of George Bird Grinnell,  83 NEBRASKA HISTORY no. 1 (2002).
To the Ice: George Bird Grinnell's 1887 Ascent of Grinnell Glacier. 49 JOURNAL OF THE WEST no.1 (2010).
Climb to the Ice,  CROWN OF THE CONTINENT MAGAZINE (online), Issue 9 (Autumn 2012).  http://issuu.com/um_crown_gye/docs/crownofthecontinent-autumn2012
Book Review: Blackfoot Redemption: A Blood Indian's Story of Murder, Confinement, and Imperfect Justice, 52 JOURNAL OF THE WEST no.2 (2013).
Book Review: The Trial of Tom Horn, 55 JOURNAL OF THE WEST no.3 (2016).
Book Review: The Disappearances: A Story of Exploration, Murder, and Mystery in the American West, 56 JOURNAL OF THE WEST no.2 (2017).
ALWAYS FACING WEST: THE LIFE AND LEGACY OF GEORGE BIRD GRINNELL (University of Oklahoma Press, contract signed May 2017).
Book Review: America's Best Female Sharpshooter: The Rise and Fall of Lillian Frances Smith, 58 JOURNAL OF THE WEST no.1 (2019).