The Fromm Emergency Fund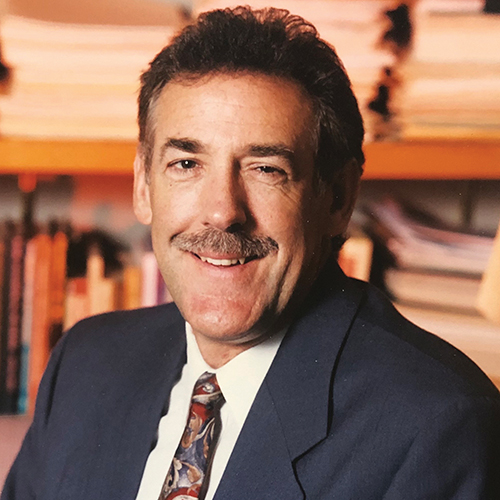 Leonard D. Fromm joined the Maurer School of Law in 1979 as Director of Student Affairs. From the beginning, he was a strong and effective advocate for students within the school's administration. Just as important, he served the students as a thoughtful, empathetic, and deeply trusted counselor. He knew every student at the school. He was their guide as they grappled with the anxiety of the 1L year, as they became involved in the school's extracurricular events and its social scene, and as they developed ways to cope with academic setbacks.
Along the way, Len advised and assisted them with every imaginable issue — financial problems, relationship challenges, personal growth. Countless graduates have begun stories about their experience at the Law School with the words "I wouldn't have been able to stay in school unless Dean Fromm had. . . ."
During his 33 years at the Law School, Len interacted with nearly 6,000 students—60% of our alumni—and he stayed in touch with a staggering number of them after their graduation.

For many students, Len's personal involvement in their education shaped their student experience. He listened to students and understood their needs. And he addressed those needs by accessing an administrative structure that he was largely responsible for creating—with resources ranging from an active peer-advising program to a strengthened career development office to an extensive alumni network. Len also provided students with short-term emergency funding when they faced unexpected crises during their law school years.
Shortly after his retirement and untimely death in 2012, the Law School established the Leonard D. Fromm Memorial Fund. The purpose of the fund is to further what was always Len's mission: to provide what a student needs, when the student needs it, in furtherance of the student's success.
A key component of the Fund, the Fromm Emergency Fund, focuses on unforeseen emergencies that students are bound to encounter from time to time: a plane ticket home to attend to a family crisis; temporary funding when a part-time job is unexpectedly canceled; or even food insecurity during the recent COVID–19 pandemic. Whatever the emergency, the Fromm Emergency Fund gives the dean and the dean of students flexibility to help our students when they need it most.
To contribute to the Fromm Emergency Fund, click on the Give Now button below, or contact Stephanie Coffey, director of annual giving, at (812) 856-2793 or stcoffey@indiana.edu