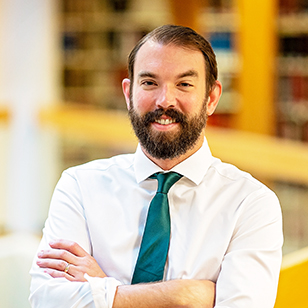 Email:

Phone:

(812) 855-1895

Location:
Education
Indiana University, M.L.S. 2022
Southern Illinois University, JD 2020
Illinois State University, M.A. 2016
University of Illinois, B.A. 2013
Biography
John Moreland joined the Jerome Hall Law Library in 2022 as the student services librarian. He is responsible for developing, evaluating, implementing, and promoting services for current Maurer law students. He provides support to the student run journals at the law school, and serves as liaison for journal content on the Digital Repository. He also provides training and support to faculty research assistants. As part of the public services team, John provides reference assistance to Maurer law students and faculty, the greater IU community, and the general public. He also shares in the teaching responsibilities of the reference librarians. John's research focuses on law student outreach and engagement and legal history.
John graduated from the Indiana University Luddy School of Informatics, Computing, and Engineering in 2022 with his Master of Library Science degree. While in library school, he worked as a reference desk assistant, circulation desk assistant, and technical services assistant in the law library. He was also an assistant professor of practice at the Southern Illinois University School of Law during the spring 2022 semester.
Selected Works
"Is Open Access Equal Access? PACER User Fees and Public Access to Court Information," DttP: Documents to the People, 49, no. ¾ (Fall/Winter 2021): 42-48.  
Susan David deMaine, John Moreland, and Emma Kearney. "Indiana Practice Materials: A Selective Annotated Bibliography," in State Practice Materials: Annotated Bibliographies, ed. Christina Glon (Buffalo, New York: W.S. Hein, 2022). 
"Organized For Service: The Hicks Classification System and the Evolution of Law School Curriculum," Law Library Journal (forthcoming Summer 2022).