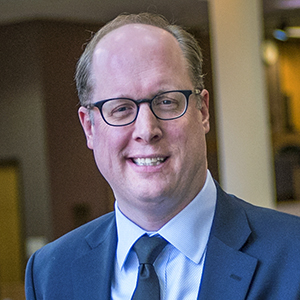 Email:

Phone:

(812) 855-8885

Location:

Baier Hall 240
Education
University of Washington B.A. 1994
Columbia University School of Law J.D. 1997
Background
Dean and James H. Rudy Professor of Law, 2014 –
Elected to Association of American Law Schools Executive Committee, 2019
Member, American Law Institute, 2019 –
Named Class of 1942 Wells Scholars Professor in 2018 for his work with IU's Wells Scholars Program
Interim Dean and CEO, Southwestern Law School, 2012-2013; Vice Dean 2008-2012
Joined Southwestern in 2002; named professor of law in 2007
Associate, O'Melveny & Myers LLP, Los Angeles, 1997-2002
Graduate, Columbia University School of Law; named a Harlan Fiske Stone Scholar
Biography
Austen Parrish is the Dean and James H. Rudy Professor at the Indiana University Maurer School of Law.  He joined the Law School in January 2014 as its 16th dean. He was appointed the 2018 Wells Scholars Class of 1942 Professor and the 2021 Wells Scholars Class of 1941 Professor for his work with Indiana University's Wells Scholars Program.
Parrish is active in a variety of national organizations focused on legal education. He is an elected member of the American Law Institute. He serves as a member of the board of directors of AccessLex Institute, a nonprofit organization dedicated to the betterment of legal education with a focus on issues of access and affordability. In 2020 he began serving as a member of the Executive Committee of the Association of American Law Schools and a member of the AALS Deans Steering Committee. From 2015-2020, he served as a member, and then chair, of the AALS Membership Review Committee. He served as a member of the faculty/programming committee for the 2019 New Deans Workshop, and that same year the Indiana Supreme Court appointed him to the Study Commission on the Future of the Indiana Bar Examination. 
Parrish's research and teaching interests focus on transnational law, transnational litigation, and the role that national courts and domestic institutions play in solving global challenges. He is the author of numerous scholarly articles that have been published in leading law reviews and is the co-author of two books. He has particular expertise in legal and policy issues related to the extraterritorial application of domestic law. Over his career, he has taught a variety of courses, including Civil Procedure, Constitutional Law, Federal Courts, Transnational Law, International Environmental Law, and Public International Law. 
Before joining Indiana University Bloomington, Parrish served as interim dean and CEO (2012-2014), vice dean (2008-2012), and the Irwin R. Buchalter Professor of Law (2007-2008) at Southwestern Law School in Los Angeles. From 2003 to 2010, he directed Southwestern's international and comparative summer law program in Vancouver, Canada, hosted by the University of British Columbia Faculty of Law in collaboration with the International Centre for Criminal Law Reform and Criminal Justice Policy, a United Nations affiliate. In 2015, he received an honorary doctor of laws degree from Southwestern Law School during its 100th year graduation ceremony, and in 2014 was honored by Southwestern's Alumni Board with its Outstanding Friend Award. In 2018, he was named the Class of 1942 Wells Scholars Professor for his work with IU's Wells Scholars program.
Prior to entering academia, Dean Parrish was an attorney with O'Melveny and Myers in Los Angeles, where he litigated in state and federal trial and appellate courts. Dean Parrish received his bachelor's degree from the University of Washington and his law degree from Columbia University, where he was a Harlan Fiske Stone scholar.
In The Media
Quoted in "Departing dean showed 'true leadership': Parrish leaves strong legacy as he prepares to depart IU Maurer," The Indiana Lawyer ( 04-13-2022 )
Mentioned in "Maurer School of Law dean Austen Parrish to step down, become dean at UC Irvine," Indiana Daily Student ( 04-11-2022 )
Mentioned in "Two Indiana University deans to step down this summer," Indiana Public Media ( 04-11-2022 )
Mentioned in "Dean at IU law school to step down," WISH News ( 04-09-2022 )
Quoted in "IU Maurer dean Parrish leaving to lead UC-Irvine law school," The Indiana Lawyer ( 04-07-2022 )
Wrote "Parrish: Staff excellence is institutional excellence," The Indiana Lawyer ( 03-11-2022 )
Quoted in "New federal land program includes Jackson County," Seymour Tribune ( 02-21-2022 )
Coauthored "Parrish and Stroud: Pipeline programs at IU Maurer School of Law," The Indiana Lawyer ( 02-16-2022 )
Quoted in "Conservation Law Center to help coordinate new Sentinel Landscape Program in Southern Indiana," WBIW ( 02-16-2022 )
Quoted in "Law students, faculty say they are fatigued but happy to be back in person," The Indiana Lawyer ( 09-01-2021 )
Mentioned in "Law school leaders take part in dialogue about racial issues," The Indiana Lawyer ( 05-26-2021 )
Quoted in "IU Maurer professor among 7 nationwide tapped as Access to Justice Scholar," The Indiana Lawyer ( 05-07-2021 )
Wrote an article titled "Graduation, student excellence and trailblazing alumni," The Indiana Lawyer ( 04-28-2021 )
Quoted in "Conversations on race draw on power of candid talks," The Indiana Lawyer ( 02-03-2021 )
Mentioned in "Indiana deans sign letter calling attack on Capitol a betrayal," The Indiana Lawyer ( 01-13-2021 )
Wrote a column titled "Parrish: IU Maurer research focusing on most topical issues of 2020," The Indiana Lawyer ( 11-11-2020 )
Quoted in "IU law school benefitting from alumni support," Inside Indiana Business ( 11-11-2020 )
Quoted in "IU Maurer part of ABA policing consortium," The Indiana Lawyer ( 10-19-2020 )
Quoted in "Bravo, Parrish co-chair review of Jordan namings," The Indiana Lawyer ( 10-14-2020 )
Quoted in "IU removes name of eugenics advocate from campus buildings," WIBC ( 10-02-2020 )
Quoted in "Law schools expecting enrollment to remain steady," The Indiana Lawyer ( 07-29-2020 )
Mentioned in "Six-member committee appointed to review the Jordan name on campus," Indiana Daily Student ( 07-07-2020 )
Interviewed in "Online or in-person? Law schools diverge in fall semester plans," Law.com ( 07-01-2020 )
Wrote a blog post about "Indiana Law's fall 1L program," Legal Evolultion ( 06-18-2020 )
Selected Works
Books
HARD-NOSED ADVICE FROM A CRANKY LAW PROFESSOR: HOW TO SUCCEED IN LAW SCHOOL (with Cristina Knolton) (2010)
EFFECTIVE LAWYERING: A CHECKLIST APPROACH TO LEGAL WRITING AND ORAL ARGUMENT (with Dennis Yokoyama) (1st ed., 2007) (2d ed., 2012)
Articles and Book Chapters

Personal Jurisdiction: The Transnational Difference, 59 VIRGINIA JOURNAL OF INTL. LAW 97 (2019)
Foreign Nations, Constitutional Rights, and International Law, 88 FORDHAM LAW REVIEW ONLINE 88 (2019)
The Interplay Between Extraterritoriality, Sovereignty, and the Foundations of International Law, in THE EXTRATERRITORIALITY OF LAW: HISTORY, THEORY, POLITICS 169 (D. Margolies et al. eds., Routledge 2019)
Fading Extraterritoriality and Isolationism? Developments in the United States, 24 IND. J. GLOBAL LEGAL STUDIES 207 (2017) (Earl A. Snyder Lecture)
Kiobel, Unilateralism, and the Retreat from Extraterritoriality, 28 MARYLAND JOURNAL OF INTERNATIONAL LAW 208 (2013)
State Court International Human Rights Litigation: A Concerning Trend?, 3 U.C. IRVINE LAW REVIEW 25 (2013)
Evading Legislative Jurisdiction, 87 NOTRE DAME LAW REVIEW 1673 (2012)
Rehabilitating Territoriality in Human Rights, 32 CARDOZO LAW REVIEW 1099 (2011) (lead article)
Duplicative Foreign Litigation, 78 GEORGE WASHINGTON LAW REVIEW 237 (2010) (lead article)
Reclaiming International Law from Extraterritoriality, 93 MINNESOTA LAW REVIEW 815 (2009) (lead article)
The Effects Test: Extraterritoriality's Fifth Business 61 VANDERBILT LAW REVIEW 1455 (2008)
Litigating Canada-U.S. Transboundary Harm: International Environmental Lawmaking and the Threat of Extraterritorial Reciprocity (co-authored w/ Shi Ling Hsu), 48 VIRGINIA JOURNAL OF INTERNATIONAL LAW 1 (2007) (lead article)
Storm in a Teacup: The U.S. Supreme Court's Use of Foreign Law, 2007 ILLINOIS LAW REVIEW 637 (2007)
Sovereignty, Not Due Process: Personal Jurisdiction Over Nonresident, Alien Defendants, 41 WAKE FOREST LAW REVIEW 1 (2006) (lead article)
Trail Smelter Déjà Vu: Extraterritoriality, International Environmental Law and the Search for Solutions to Canadian-U.S. Transboundary Water Pollution Disputes, 85 BOSTON UNIVERSITY LAW REVIEW 363 (2005) (lead article)
Avoiding the Mistakes of Terrell R.: The Undoing of the California Tort Claims Act and the Move to Absolute Governmental Immunity in Foster Care Placement and Supervision
, 15 STANFORD LAW & POLICY REVIEW 267 (2004)