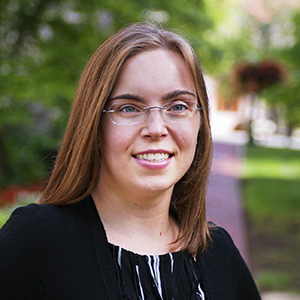 Email:

Phone:

(812) 855-1257

Location:

Baier Hall 311C
Education
New York University B.S. 2004
Harvard University J.D. 2008
Courses
Seminar on Consumer Credit (L703)
Background
Expert on bankruptcy, commercial, and consumer law
Current research centers on consumer and business bankruptcy, including cases filed by non-profit entities
Co-Investigator on the Consumer Bankruptcy Project
Contributor to the legal blog Credit Slips
Clerked for Hon. Thomas L. Ambro, Third Circuit Court of Appeals, and Hon. Peter J. Walsh, Bankruptcy Court, District of Delaware
Biography
Professor Pamela Foohey's research centers on bankruptcy, commercial law, and consumer law. Her work primarily involves empirical studies of bankruptcy and related parts of the legal system, combining quantitative and qualitative, interview-based research. Her work in business bankruptcy focuses on non-profit entities, with a particular emphasis on how churches and other religious organizations use bankruptcy. The results of this research have been featured in media outlets such as the New York Times, Bloomberg, CBS News Moneywatch, and Reveal. Professor Foohey also is a co-investigator on the Consumer Bankruptcy Project, a long-term research project studying persons who file bankruptcy which has been the leading empirical study of consumer bankruptcy for the past 35 years. The results of this research likewise have been featured in top media outlets, including the New York Times, NPR, U.S. News & World Report, and the Washington Post.
Professor Foohey joined the IU Maurer School of Law faculty in 2014 after two years as a visiting assistant professor at the University of Illinois College of Law. She currently serves as chair of the Center for Law, Society & Culture's advisory board. In 2017, she received the Gavel Award for outstanding contribution to the graduating class; in 2018, she received the IU Trustees' Teaching Award for excellence in teaching; and in 2019, she received the Leon H. Wallace Teaching Award, the highest teaching honor given to IU Maurer School of Law faculty.
Professor Foohey is the current chair-elect of the Law and the Social Sciences' Section of the Association of American Law Schools (AALS), and is a past chair of the AALS Section on Commercial and Consumer Law and of the AALS Section on Creditors' and Debtors' Rights. She also is a current member of the executive committee of the AALS Section on Real Estate Transactions, and a co-chair of the Law and Society Association's Household Finance Collaborative Research Network. Professor Foohey currently serves on the editorial advisory board of the American Bankruptcy Law Journal, which is a peer-reviewed academic law review published by the National Conference of Bankruptcy Judges. In 2019, the American Bankruptcy Institute named her a "40 Under 40" Emerging Leader in Insolvency Practice.
Prior to teaching, she clerked for the Honorable Thomas L. Ambro of the Third Circuit Court of Appeals, worked as an associate in the Bankruptcy and Financial Restructuring Group of Dorsey & Whitney LLP in Minneapolis, and clerked for the Honorable Peter J. Walsh of the Bankruptcy Court for the District of Delaware. Professor Foohey received a Bachelor of Science degree Summa cum Laude from New York University's undergraduate Stern School of Business, where she majored in economics and finance, and a J.D. cum Laude from Harvard Law School, from which she also received a post-graduate research fellowship.
Areas of Expertise
Bankruptcy
Consumer protection law
Corporate law