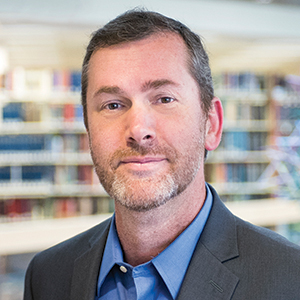 Email:

Phone:

(812) 856-2748

Location:

Baier Hall 272
Secretary Contact:

Name:

Claire Liddell

Phone:

(812) 855-9755

Email:
Education
UCLA B.A. 1989
Columbia University M.I.A 1998
Harvard Law School (cum laude) J.D. 1999
Courses
International Law and Policy (SPEA V456)
Background
American Council of Learned Socities Fellow (2021)
Humboldt Research Fellow at the Max Planck Institute (2012-13)
Visiting Fellow and Visiting Scholar, Harvard Law School (2002-2005)
International Criminal Tribunal for the Former Yugoslavia (1999-2000)
Peace Corps Volunteer, Hungary (1991-1994)
Biography
Timothy William Waters writes and teaches on the laws of war, international criminal law, secession, and changes in states' borders.

He is the author of Boxing Pandora: Rethinking Borders, States, and Secession in a Democratic World (Yale 2020) and editor of The Milošević Trial: An Autopsy (Oxford 2013). He is a frequent contributor to policy debate on international law and politics. He has published extensively in leading journals of international law and international relations, including at Yale, Harvard, NYU, Virginia, Duke, Stanford, and George Washington. His op-eds on Iraq, Ukraine, the Balkans, and international justice, as well as gun rights and public discourse in America, have appeared in the New York Times, Washington Post, Los Angeles Times, Völkerrechtsblog, Christian Science Monitor, Foreign Affairs, Foreign Policy, and The Atlantic.

A graduate of UCLA, Columbia, and Harvard, he has held fellowships at Harvard Law School, the American Council of Learned Societies, and the Alexander von Humboldt Foundation, and visited at the Max Planck Institute for Comparative Public Law and International Law in Heidelberg. Beside teaching at Indiana, he has visited at Boston University, the University of Mississippi, Bard College, and Central European University in Budapest.

Prior to becoming an academic, Waters worked as a consultant on legal system reform for the Open Society Institute, and on ethnic discrimination for Human Rights Watch; as a researcher at the International Criminal Tribunal for the Former Yugoslavia; as a human rights officer in Bosnia for the Organization for Security and Cooperation in Europe; and as a Peace Corps volunteer in Hungary where he helped open a high school for Roma/Gypsies and founded a nationwide English-language drama festival.
Selected Works
The Map Makes the People: The Territorial Nature of Self-Determination, in Ryan D. Griffiths et al, THE ROUTLEDGE HANDBOOK OF SELF-DETERMINATION AND SECESSION 117-30 (Routledge 2023).
Digressing towards Justice: International Criminal Law's Narrative of Moral Transit through Violence, in Klara Polackova Vanderploeg et al, INTERNATIONAL LAW AND TIME: NARRATIVES AND TECHNIQUES 99-109 (Springer 2022).

BOXING PANDORA: RETHINKING BORDERS, STATES, AND SECESSION IN A DEMOCRATIC WORLD New Haven: Yale U. Press, 2020.
The Persecution of Stones: War Crimes, Law's Autonomy and the Co-optation of Cultural Heritage, 20 CHICAGO JOURNAL OF INTERNATIONAL LAW 62 (2019).
Constructing Citizenship through War in the Human Rights Era, 11 HUMAN RIGHTS 85 (2017).
Hidden Legitimacy: Crafting Judicial Narratives in the Shadow of Secrecy at a War Crimes Tribunal: A Speculation in THE LEGITIMACY OF INTERNATIONAL CRIMINAL TRIBUNALS (N. Hayashi and C.M. Baillet, Eds.). New York: Cambridge University Press, 2017.
The Shaping Flame: Trials, Conflict and Reconciliation in Syria, 221/222 INTERNATIONAL SOCIAL SCIENCE JOURNAL 257-70 (2016).
For Freedom Alone: Secession after the Scottish Referendum,44 NATIONALITIES PAPERS 124 (2016)
The Spear Point and the Ground Beneath: Territorial Constraints on the Logic of Responsibility to Protect, 30 INTERNATIONAL RELATIONS 314 (2016).
THE MILOŠEVIĆ TRIAL: AN AUTOPSY(Ed.). Oxford: Oxford University Press, 2013.
Discursive Democracy and the Challenge of State Building in Divided Societies: Reckoning with Symbolic Capital in Bosnia and Herzegovina (with Robert L. Ivie), 38 NATIONALITIES PAPERS 449 (2010).
A Kind of Judgment: Searching for Judicial Narratives after Death 42 GEORGE WASHINGTON INTERNATIONAL LAW REVIEW 279 (2010).
"The Momentous Gravity of the State of Things Now Obtaining": Annoying Westphalian Objections to the Idea of Global Governance, 16 INDIANA JOURNAL OF GLOBAL LEGAL STUDIES 25 (2009).
Assuming Bosnia: Taking the Polity Seriously in Ethnically Divided Societies, in DECONSTRUCTING THE RECONSTRUCTION: HUMAN RIGHTS AND THE RULE OF LAW IN POSTWAR BOSNIA AND HERZEGOVINA (Dina Francesca Haynes, Ed.). Aldershot, England: Ashgate, 2008.
Remembering Sudetenland: On the Legal Construction of Ethnic Cleansing, 47 VIRGINIA JOURNAL OF INTERNATIONAL LAW 63-146 (2006).