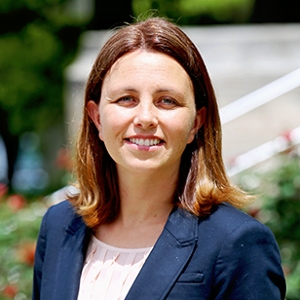 Email:

Phone:

(812) 855-3789

Location:

Baier Hall 251
Secretary Contact:

Name:

Rita Eads

Phone:

812-855-7272

Email:
Education
Amherst College B.A. magna cum laude 1998
University of Chicago Law School J.D. 2004
Biography
Professor Shana Wallace practiced both criminal and civil antitrust law for over a decade with the United States Department of Justice's Antitrust Division. In that role, she represented the government in an appellate capacity in civil and criminal cases, served as an advisor to the Directors of Criminal and Civil enforcement, and investigated mergers and anticompetitive conduct with the Telecommunications and Media Enforcement Section. In 2016, Wallace was awarded the Attorney General's Award for Distinguished Service for her contributions to the United States v. Apple, et al. litigation. Wallace also spent time as deputy associate counsel in the White House, where she led reviews of political appointments, and served as a special assistant United States attorney in the Eastern District of Virginia, where she prosecuted drug, immigration, and fraud cases and represented the government in several criminal matters on appeal.
Wallace joined the IU Maurer School of Law faculty in 2016. In 2017 she received the Law School's Leonard D. Fromm Public Interest Award, which is awarded by students each year to the faculty member who has done the most to encourage public interest work. And in 2018 she received a Trustees' Teaching Award as well as the Black Law Student Association's Outstanding Interactive Professor Award. And in 2021, she received the Leon H. Wallace Teaching Award, the law school's highest teaching honor.
Before beginning her career in antitrust law, Wallace served as a California Judicial Administration Fellow, focusing on access to justice issues in the Los Angeles County Court system—assisting in the evaluation of the Complex Litigation Court and drug courts, and the establishment of a self-represented litigant clinic. In law school, as part of University of Chicago's Police Accountability Clinic, she was a student co-leader of a successful class action brought by residents of the Stateway Gardens housing project against the Chicago Police Department for an unlawful mass search and seizure. Prior to law school, she worked for a San Francisco law firm's professional liability practice group, which advised major Bay Area law firms on legal ethics rules and represented attorneys and firms defending against malpractice claims.
Her work has appeared in the University of Chicago Law Review, and she has clerked for the Honorable David F. Hamilton of the United States Court of Appeal for the Seventh Circuit (2018-2019) and for the Honorable Peter J. Messitte of the U.S. District Court for the District of Maryland (2004-2005). Wallace has a J.D. from the University of Chicago and a B.A. from Amherst College.
Areas of Expertise
Antitrust law
Civil procedure
Ethics
Legal profession