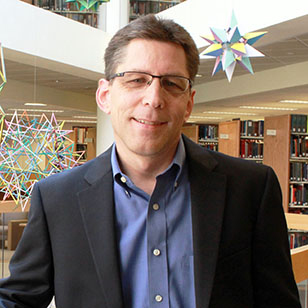 Email:

Phone:

(812) 855-1205

Location:

Baier Hall 311B
Secretary Contact:

Name:

John Bunck

Phone:

812-856-3132

Email:
Education
Purdue University B.S. 1986
Indiana University Maurer School of Law J.D. 1989
Background
Member, American Law Institute, 2018 –
Recipient of Leon H. Wallace Teaching Award, 2013
Co-hosted a conference, "The Future of Design Protection," at Jesus College, Oxford University of Oxford, November 2012
Filed an amicus brief with the U.S. Supreme Court in Retractable Technologies, Inc., et al., v. Becton, Dickinson and Company (with Donald E. Knebel, Timothy R. Holbrook and Todd G. Vare) (May 2012).
Winner, 2008 Ladas Award (from International Trademark Association) for the article Confusion Over Use: Contextualism in Trademark Law, 92 IOWA L. REV. 1599 (2007) (with Graeme B. Dinwoodie).
Visiting Instructor, Munich Intellectual Property Center (January 2008-present); Oxford University and University of Victoria (British Columbia) School of Law summer IP law program (summer 2002-2007); Summer Institute, Center for Advanced Study and Research in Intellectual Property (CASRIP), University of Washington School of Law, Seattle, WA (July 1999).
Biography
Mark D. Janis teaches courses in patents, trademarks, and other areas of intellectual property law. He is the Robert A. Lucas Chair of Law and the Director of the Center for Intellectual Property Research. Janis has authored a number of books, including the treatise IP and Antitrust (with Hovenkamp, Lemley, Leslie, and Carrier), Trademarks and Unfair Competition in a Nutshell, two casebooks (Trademarks and Unfair Competition: Law and Policy (4th ed.), and Trade Dress and Design Law, both with Dinwoodie) and other books on trademark law (with Dinwoodie). He has published numerous law review articles and book chapters on patent law, intellectual property and antitrust, trademark law, intellectual property protection for plants, plant biotechnology and intellectual property protection for designs.
Janis is the winner of a Collegiate Teaching Award and a Faculty Scholar Award (both from the University of Iowa College of Law), and INTA's Ladas Award in 2008. At Indiana Law, he was the recipient of the Leon H. Wallace Teaching Award, the highest teaching honor given to law faculty.
Prior to joining the faculty at Indiana, Professor Janis was the H. Blair & Joan V. White Chair in Intellectual Property Law at the University of Iowa College of Law. He practiced patent law at Barnes & Thornburg (Indianapolis) from 1989 to 1995.
Selected Works
TRADEMARKS AND UNFAIR COMPETITION: LAW AND POLICY, 5th Ed.(with Graeme B. Dinwoodie). New York: Wolters Kluwer Law & Business, 2018.
How Should Damages be Calculated for Design Patent Infringement?, 37  REV. LITIG. 241 (2018).
IP AND ANTITRUST LAW: AN ANALYSIS OF ANTITRUST PRINCIPLES APPLIED TO INTELLECTUAL PROPERTY LAW  (3d. ed. 2016) (with Hovenkamp, Lemley, Leslie, and Carrier) (with annual updates).
INTELLECTUAL PROPERTY LAW OF PLANTS (with Jervis and Peet) (Oxford 2014).
TRADE DRESS AND DESIGN LAW (with Dinwoodie) (2010).
Mr. Nicholson's Cane, 59 ARIZ. L. REV. 647 (2017).
Disclosing Designs, 69 VAND. L. REV. 1631 (2016) (with Du Mont).
Expressive Eligibility, 5 CAL. IRVINE L. REV. 973 (2015) (with Holbrook).
Virtual Designs, 17 STANFORD TECH. L. REV. 107 (2013) (with Du Mont).
The Origins of American Design Patent Protection, 88 IND. L.J. 837 (2013) (with Du Mont)
Patent Law's Audience, 97 MINN. L. REV. 72 (2012) (with Holbrook).
Areas of Expertise
Intellectual property law