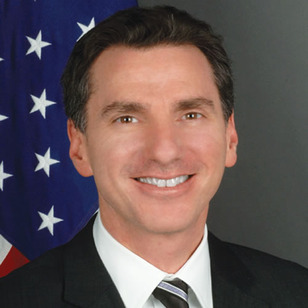 Email:

Phone:

(812) 856-7900

Location:

Global and International Studies Building, 4081
Education
Vassar College A.B.
City University of New York Graduate School and University Center M.A.
Georgetown University Law Center J.D.
Biography
Ambassador Lee A. Feinstein, whose experience includes more than two decades serving in high-level positions in diplomacy and foreign affairs, was appointed founding dean of Indiana University's Hamilton Lugar School of Global and International Studies in December 2013.

Feinstein, the U.S. ambassador to the Republic of Poland from 2009 to 2012, has had a distinguished career in and out of government. A noted scholar-practitioner, he has served two secretaries of state and a secretary of defense and has worked at the nation's top research institutes, including the Council on Foreign Relations and the Brookings Institution. Feinstein was national security director to former Secretary of State Hillary Rodham Clinton during her 2008 presidential campaign and then served as a senior foreign policy advisor to President Barack Obama during the general election. He was principal deputy director of policy planning to Secretary of State Madeleine Albright and was previously senior advisor on peacekeeping policy in the Office of the Secretary of Defense.

In Poland, Feinstein was at the helm of one of the largest U.S. embassies in the European Union. During his tenure, he signed an agreement to establish a U.S. Aviation Air Force Detachment in Poland, the first permanent U.S. military presence in the country. In October 2012 in Warsaw, President Bronislaw Komorowski awarded him the Commander's Cross with the Star of the Order of Merit "for his outstanding contributions to Polish-American relations by strengthening cooperation between the Republic of Poland and the United States."
Feinstein has written widely on foreign policy and national security. He is the author of "Means to an End: U.S. Interest and the International Criminal Court" (Brookings, 2009) with Tod Lindberg of the Hoover Institution. An international lawyer, Feinstein is an authority on "The Responsibility to Protect" and authored the Council on Foreign Relations report "Darfur and Beyond: What Is Needed to Prevent Mass Atrocities," which was featured in the Emmy Award-winning multimedia council project "Crisis Guide-Darfur." Feinstein is the author of numerous articles, book chapters and op-eds, and he is a frequent commentator for the national and international media.