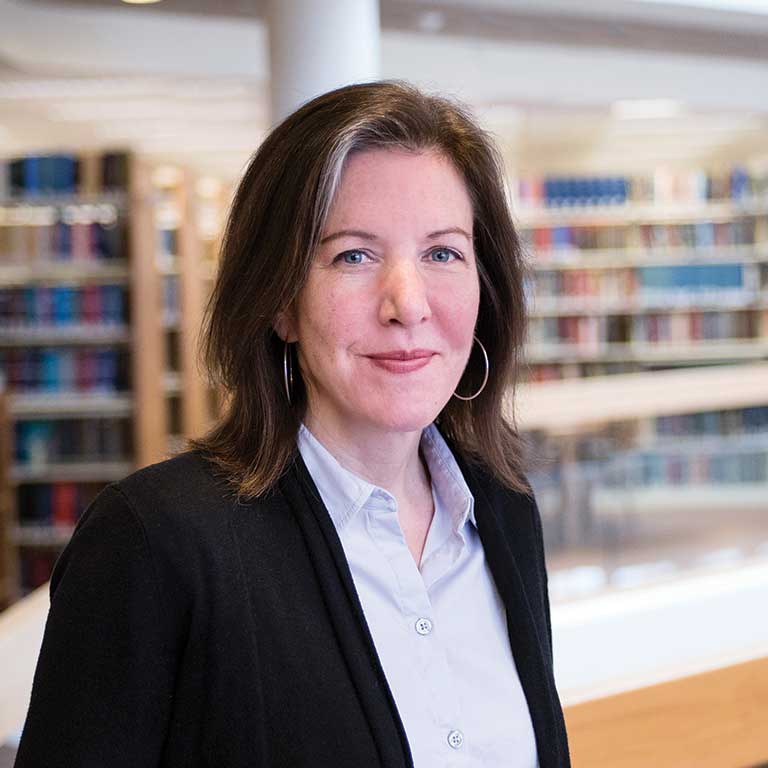 Email:

Phone:

(812) 855-8669

Location:

Bryan Hall 104
Education
Cornell University B.A. (cum laude) 1987
Cornell Law School J.D. (magna cum laude) 1992
University of Heidelberg LL.M. (summa cum laude) 1993
Biography
Hannah Buxbaum is Indiana University's vice president for international affairs, a position to which she was appointed in 2018. As vice president, Buxbaum promotes global engagement at IU across all aspects of the university's mission. She provides strategic leadership in advancing IU's international presence and works collaboratively with administrators, faculty, and staff to expand international research and educational opportunities. She oversees the offices that manage international admissions and student services, study abroad, international partnerships, and international development, as well as the university's Global Gateway Network.
Professor Buxbaum joined the faculty at Indiana Law in 1997 after practicing in the area of international securities transactions in the New York and Frankfurt offices of Davis Polk & Wardwell. She teaches conflict of laws, contracts, international business transactions, and international litigation. She has won a number of teaching awards, including the school's Leon H. Wallace Award, and is a five-time recipient of the Gavel Award for outstanding contribution to the graduating class. Professor Buxbaum has taught as a visiting professor at Humboldt University and the universities of Cologne, Kiel, and Nürnberg-Erlangen; in 2013 she delivered a course on international regulatory law at the Hague Academy of International Law.
Professor Buxbaum's research is in the areas of private international law and international litigation and jurisdiction, and is published in leading U.S. and European journals. Her most recent work has focused on the jurisdictional issues presented in cross-border securities and antitrust litigation. She is also the co-author of a leading casebook on international business transactions. Professor Buxbaum is active in a number of national organizations, including the American Society of International Law, the American Society of Comparative Law, and the Association of American Law Schools. She has been elected to membership in the American Law Institute, where she is currently an Advisor for the Restatement (Fourth) of Foreign Relations Law: Jurisdiction and Judgments, and is a titular member of the International Academy of Comparative Law.
Professor Buxbaum has held a number of administrative positions at Indiana Law, and from January 2012 to December 2013 served as the school's interim dean. From 2015-2018, she was the inaugural academic director of the IU Europe Gateway in Berlin.
Selected Works
Books
TRANSNATIONAL BUSINESS PROBLEMS (with Detlev Vagts, William Dodge and Harold Koh) (Foundation Press 5th ed. 2014).
A Conflict-of-Laws Anthology (second edition) (with Gene R. Shreve) (LexisNexis 2d. ed. 2012).
Articles
Public Regulation and Private Enforcement in a Global Economy: Strategies for Managing Conflict, 399 RECUEIL DES COURS (2019).
The Interpretation and Effect of Permissive Forum Selection Clauses Under U.S. Law, 66 AM. J. COMP. L. SUPPL. 127 (2018).
Determining the Territorial Scope of State Law in Interstate and International Conflicts: Comments on the Draft Restatement (Third) and on the Role of Party Autonomy, 27 DUKE J. COMP. & INT'L. L. 381 (2017).
Transnational Legal Ordering and Regulatory Conflict: Lessons From the Regulation of Cross-Border Derivatives, 1 U.C. IRVINE J. INT'L., TRANSNAT'L & COMP. L. (2017).
Foreign Governments as Plaintiffs in U.S. Courts and the Case Against "Judicial Imperialism," 73 WASH. & LEE L. REV. 653 (2016).
The Viability of Enterprise Jurisdiction: A Case Study of the Big Four Accounting Firms, 48 U.C. DAVIS L. REV. 1769 (2015).
Territory, Territoriality and the Resolution of Jurisdictional Conflict, 57 AM. J. COMP. L. 631 (2009).
Multinational Class Actions Under Federal Securities Law: Managing Jurisdictional Conflict, 46 COLUM. J. TRANSNAT'L L. 14 (2007).
Transnational Regulatory Litigation, 46 VA. J. INT'L L. 251 (2006).
Conflict of Economic Laws: From Sovereignty to Substance, 42 VA. J. INT'L L. 931 (2002).
The Private Attorney General in a Global Age: Public Interests in Private International Antitrust Litigation, 26 YALE J. INT'L L. 219 (2001).
Rethinking International Insolvency: The Neglected Role of Choice-of-Law Rules and Theory, 36 STAN. J. INT'L L. 23 (2000).
Areas of Expertise
Globalization
International law