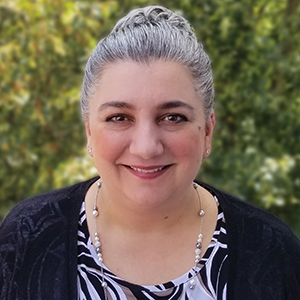 Professor Leandra Lederman is the William W. Oliver Chair Emerita in Tax Law at the Indiana University Maurer School of Law. She is ranked as one of the 10 most frequently cited U.S. tax scholars in the 5 most recent Brian Leiter Law School Reports. She is a member of the American Law Institute and a Fellow of the American College of Tax Counsel, and she was a Fulbright scholar in 2019, hosted by the University of Luxembourg. 
Professor Lederman took emerita status in 2023. Prior to that, she served as the William W. Oliver Chair in Tax Law, Professor of Law, and Director of the Tax Program. She continues to serve as Chair of Maurer's Academic Careers Initiative and as Faculty Advisor to Maurer's Tax Law Society. She will also be running Maurer's Tax Policy Colloquium again in Spring 2024.
Lederman has been a visiting professor at the University of Chicago Law School (Fall 2015) and the University of Texas School of Law (academic year 2002-2003). Before joining the Indiana faculty in 2004, she was a Professor of Law at George Mason Law School. Every fall since 2011, Professor Lederman has taught a short course in U.S. Tax Law as a visiting professor at the Universidad de Navarra in Pamplona, Spain. 
Professor Lederman is an award-winning scholar and teacher. In 2021, she was a winner of the Southeastern Association of Law Schools "Call For Papers" competition. In 2019, Professor Lederman was awarded the Tracy M. Sonneborn Award by Indiana University. This award is given to "an exemplary researcher who is also well known as an exemplary teacher." In both 2023 and 2009, Lederman received a Trustees' Teaching Award from Indiana University Maurer School of Law. In 2012, she received the Leon H. Wallace Teaching Award, which is the Maurer Law School's highest teaching honor. In addition, in 2005, she received the Law Alumni Association Legal Teaching Award from New York University School of Law. In 2001, Professor Lederman was recognized by George Mason University for excellence in teaching.
Professor Lederman has written numerous articles on policy issues in the areas of federal income tax (individual and corporate), tax administration (including several articles on tax compliance and evasion), and tax controversies (including a line of research on the U.S. Tax Court). Her work has included empirical analyses and a law-and-economics approach to tax issues. Most of her articles are available for download on her SSRN Author Page. She is the co-author of the book Understanding Corporate Taxation (4th ed. 2020), and is working on a 5th edition of it with Emily Cauble of Wisconsin Law School. She is also co-author with Kansas Law School Dean Stephen W. Mazza of the Tax Controversies: Practice and Procedure casebook and Teacher's Manual (4th ed. 2018) and its annual supplements through 2022.
In Spring 2021, Professor Lederman started the Break Into Tax YouTube channel with Professor Allison Christians from McGill University. She began running it alone in Fall 2021. Break Into Tax features short videos on tax law topics and other topics of interest to law students and junior lawyers, along with tax humor. In 2020, Professor Lederman and Dr. Leopoldo Parada from the University of Leeds originated and co-hosted the widely attended Indiana/Leeds Summer Tax Workshop Series, which they ran for two years. 
Professor Lederman is admitted to the bars of the state of New York (inactive), the U.S. Tax Court, and the U.S. Supreme Court. She served as a National Reporter for the United States for the 2015 European Association of Tax Law Professors Congress on the topic of surcharges and penalties in tax law. Professor Lederman is a past Chair of the Tax Section of the Association of American Law Schools and a past member of the Board of Directors of the National Tax Association. She is also a past Chair of the Teaching Taxation Committee of the Tax Section of the American Bar Association, and she served for many years as an Associate Editor of the Section's NewsQuarterly and as a member of the Board of Advisers of the Florida Tax Review. 
Lederman received an A.B. degree cum laude from Bryn Mawr College in 1987, with honors in her major of Romance Languages (French and Spanish). In 1990, she earned her J.D. cum laude from New York University School of Law, where she was a Note and Comment Editor of the N.Y.U. Law Review and was elected to the Order of the Coif. Professor Lederman subsequently earned her LL.M. in taxation from N.Y.U., where she was a student editor of the Tax Law Review. After practicing law as an associate at White & Case in New York City and receiving her LL.M., she clerked for Judge David Laro of the U.S. Tax Court in Washington, D.C. Professor Lederman speaks French and Spanish and is learning German. 
View Professor Lederman's publications, her presentations, and her blog posts and Break Into Tax videos.
Contact Info
Indiana University
Maurer School of Law
211 S. Indiana Ave.
Bloomington, IN 47405
(812) 855-6149 (voicemail)
(812) 855-0555 (fax)
llederma@indiana.edu