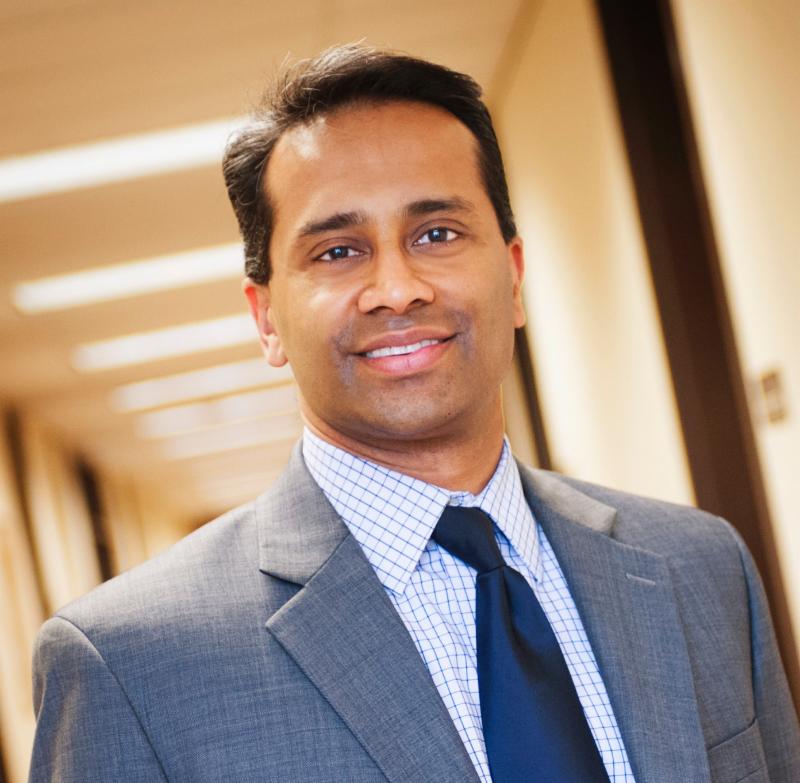 Greetings from the Center on the Global Legal Profession. We hope you had a great summer. Here, for our CGLP community, life was busy over the past three months. Below are some of the highlights. All best wishes for a wonderful 2015-2016 academic year.

Jay Krishnan
Professor of Law, Charles L. Whistler Faculty Fellow
CGLP Director

Two talks help strengthen relationship with Max Planck Institute

The CGLP deepened ties this summer with the European research center, the Max Planck Institute-Luxembourg. Professor Hannah Buxbaum delivered a talk on foreign governments as plaintiffs in U.S. courts in late June, and in July Professor Jay Krishnan served as a visiting fellow there and also presented a talk on dispute resolution and procedural justice in India.
CGLP tapped to evaluate Dubai court

The CGLP has been commissioned by the University of Dubai (United Arab Emirates - U.A.E.) to lead an independent evaluation of the Dubai World Tribunal (DWT). The DWT is an English-speaking court, which has three judges from Britain and one judge from Singapore presiding. The DWT was created by the Dubai government in December of 2009 and is charged with hearing cases related to the government-owned Dubai World Investment Company.

Dubai World, founded in 2006, is the primary investment arm of the Dubai government, and its portfolio includes over 90 businesses, tens of thousands of employees, and several billions of dollars of investments across the globe. The DWT was constituted in order to provide confidence to global creditors that claims made against Dubai World and its subsidiaries would be heard by a panel of independent and distinguished judges who could fairly impart the best judicial practices when rendering debt-restructuring decisions.



The University of Dubai College of Law received a grant from the Dubai government's DWT to carry out a five-year assessment and evaluation of this institution. So as to ensure the report's independence, the University of Dubai asked the CGLP to lead this academic inquiry. Earlier this year, the CGLP published an academic paper on a different set of English-speaking courts in Dubai, the Dubai International Financial Centre Courts. That study, which was funded by the U.S. nonprofit, the National Center for State Courts, has garnered the attention of academics, public policy officials, lawyers, and judges in the region and beyond. The CGLP-led report on the DWT is scheduled to be completed by 2016.
The legal profession and improving access to justice focus of latest India trip

Jay Krishnan
spent time in India this summer discussing the Center's research on the Indian legal profession to a range of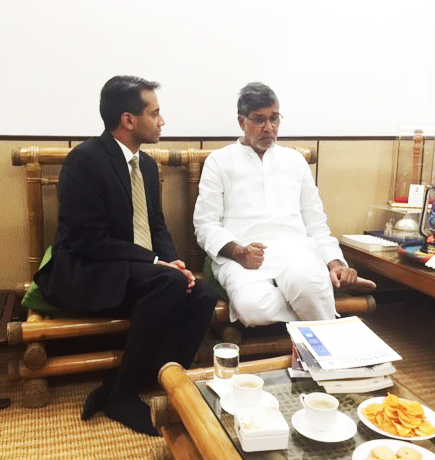 Krishnan, left, and 2014 Nobel Peace Prize winner Mr. Kailash Satyarthi
audiences. Meetings occurred at the Bar Council of India, the Indian Ministry of Commerce, the Law Commission of India, the President of India's
Office - Rashtrapathi Bhavan, the
O.P. Jindal Global University, and the U.S. government's American Center. In addition, Krishnan met with 2014 Nobel Peace Prize winner and leading children's rights advocate, Mr. Kailash Satyarthi, to discuss the state of access to justice in India.
On his trip, Krishnan was part of a program on the globalization of the Indian legal profession hosted by the Indian Upper House of Parliament's television station, Rajya Sabha TV. That interview can be seen here.
Recent Center faculty research and scholarly activities


Hannah Buxbaum
was named the founding director of the IU Europe Gateway Office, which will be based in Berlin. She also gave a talk at the University of Wurzburg and presented a paper entitled "Transnational Legal Ordering and Global Securities Markets" at a symposium on transnational legal ordering at the UC Irvine School of Law. In addition, her recent article, "The Viability of Enterprise Jurisdiction," appeared in the
UC Davis Law Review
. And she participated in the meetings of the Advisory Board for the Max Planck Institute for Private International Law in Hamburg, Germany, where she is also a member.
Kenneth G. Dau-Schmidt
presented "Oh Brother Where Art Thou?: The Struggles of African American Males in the Global Economy of the Information Age" as part of "Dalits and African Americans in the Twenty-First Century: Learning from Cross-Cultural Experiences," at the National Law School of India, Bengaluru, India, on July 9
; and
"Affirmative Action Policies in the American Private Sector" as part of the conference on "The Struggles of Black Americans in the U.S. and Dalits in India: Comparative Perspectives" at the A.N. Sinha Institute of Social Studies in Patna, Bihar India on July 6
.
Dau-Schmidt also wrote a chapter for The Oxford Handbook on the Law and Regulation of Technology, edited by Roger Brownsword, Eloise Scotford, and Karen Yeung, entitled "Trade, Commerce, and Employment: The Evolution of the Form and Regulation of the Employment Relationship in Response to the New Information Technology."
Charles Geyh
spoke at the Annual Conference of Court Information Officers, taught a week-long course on Judges and the Social Sciences to thirty trial judges in the Indiana Graduate Program for Judges, addressed the Indianapolis Law Club (a group of Indianapolis area litigators) on the 2015 amendments to the Federal Rules of Civil Procedure, and completed the 2015 supplement to Judicial Conduct and Ethics, which he coauthored with Jim Alfini and Dama Remus.
William Henderson
just submitted his cover story for the ABA Journal on the rise of legal operations, which will be published in October. He also recently completed a book chapter on changes occurring in the market for legal education.
Ethan Michelson
participated in three different sessions at this year's 2015 Law & Society Association Conference in Seattle, serving as a discussant on a panel on legal education in China and Japan, presenting findings from his research on the careers of Chinese lawyers, and commenting on data collection practices when studying the effects of globalization on the legal profession.
Lauren Robel served as the Association of American Law Schools' representative to a recent American Bar Association House of Delegates meeting. She also helped pave the way for our Stewart Fellows Program to expand to Vietnam in 2016 by working with IU alum Thomas Treutler, '01, of Tilleke & Gibbins.
Carole Silver
is engaged in a new study of international students enrolled in U.S. JD and post-JD programs, which she began last year. The study will both break new ground in its focus on international JD students and revisit earlier work Silver undertook to explore the role of U.S. legal education in the careers of international LLM graduates. She also is working on a new analysis of global law firms that will consider how the firms' strategies and preferences changed after 2008.
Jeffrey Stake
presented his co-authored paper (written with Michael Alexeev) "Who Responds to U.S. News & World Report's Law School Rankings?" at the 2015 International Society for New Institutional Economics Conference, hosted by Harvard Law School.
He also made final edits on a book chapter entitled "Property Law Reflections of a Sense of Right and Wrong."
Carwina Weng,
who directs the Disability Law Clinic, has expanded her work to include veterans' disability benefits. She also will be speaking at a workshop on Understanding by Design and curricular learning outcomes at Syracuse University on Sept. 18.
Stewart Fellows wrap up successful summer

Our 18 Milton Stewart Fellows returned from their internships in Argentina, Brazil, India, Japan, South Korea, and Thailand, working in exciting legal positions within law firms, non-governmental organizations, and multi-national corporations. In just six years, the CGLP has sent nearly 80 students abroad as Stewart Fellows. Next year we hope to top the 100 student mark; and thanks to generous funding from our supporters who have believed in this program and in our students, in 2016 we hope to cross the half-million dollar goal in scholarship support for these wonderful fellows.
Your support matters

Your gifts to the Center support research and student summer externships around the globe.
To support the Center, just click

the
Give Now
button to make your gift via the IU Foundation's secure website.