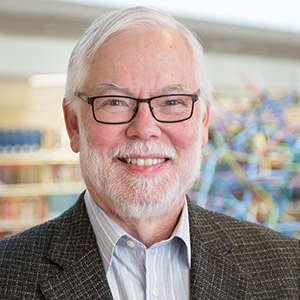 Email:

Phone:

(812) 855-4846

Location:

Baier Hall 318
Secretary Contact:

Name:

Theo Tripodis

Phone:

812-856-3132

Email:
Education
Princeton University A.B. 1972
Duke University J.D. 1976
Duke University LL.M. 1979
Courses
Trial Law and Procedure (B683)
Pre-Trial Litigation (B564)
Trial Law @amp; Advocacy (B546)
Background
Counsel of record in Granholm v. Heald, 540 U.S. 460 (2005) and 18 related lower court cases addressing a commerce clause challenge to laws prohibiting ordering wine over the Internet.
Admitted: U.S. Supreme Court; 4th, 6th, 7th & 11th Circuits; Indiana, New York, North Carolina.
Indiana Supreme Court Rules of Evidence Committee, 1992-94.
Indiana Civil Liberties Union: Cooperating Attorney, 1980-present (Zweig Award 1993); Board of Directors 1990-2001; Board president, 1995-97
Assistant District Attorney, New York, New York; 1976-77
Biography
Professor Alex Tanford's specialty is litigation, and he is a leading authority on trial practice and procedure. He teaches trial practice, evidence, and pretrial civil litigation, and coaches the trial competition team.
He has written extensively on litigation. He is the author of The Trial Process: Law, Tactics, and Ethics; Indiana Trial Evidence Manual; and numerous law review articles on aspects of our trial system such as the litigation crisis, race-based jury selection, the use of scientific evidence in the Exxon Valdez case, rape shield laws, and the ethics of using unreliable witnesses and evidence. Much of his scholarly work has used empirical research by psychologists on jury behavior to critique the way we usually conduct trials.
Tanford is also involved in civil liberties issues. He has taught constitutional litigation and written several books and articles on the Establishment Clause and civil liberties in cyberspace. He is a cooperating attorney with the ACLU, and has handled more than a dozen cases at the trial and appellate level. He is currently co-counsel in a series of constitutional cases challenging state laws that prohibit ordering wine over the Internet.
He is a frequent speaker on evidence, litigation, and civil liberties, and a participant in interdisciplinary conferences in law and psychology. He has received a number of awards and fellowships for his teaching, research and service. He retired from teaching in December 2014.
Selected Works
e-Commerce in Wine, 3 JOURNAL OF LAW, ECONOMICS & POLICY 275 (2007).
INDIANA TRIAL EVIDENCE MANUAL, 5th ed. Newark, NJ: LexisNexis, 2003. Supplements 2006, 2007, 2008.
The Limits of Closing Arguments, 1 INDIANA CIVIL LITIGATION REVIEW 111 (2004).
Objections During Opening Statement, 1 INDIANA CIVIL LITIGATION REVIEW 221 (2004).
INDIANA TRIAL EVIDENCE MANUAL, 5th ed. Newark, NJ: LexisNexis, 2003.
THE PRETRIAL PROCESS. Newark: LexisNexis, 2003.
Keeping Cross-Examination Under Control, 25 AMERICAN JOURNAL OF TRIAL ADVOCACY 179 (2002).
The Ethics of Evidence, 25 AMERICAN JOURNAL OF TRIAL ADVOCACY 487 (2002)
TRIAL PRACTICE PROBLEMS AND CASE FILES: SUPPLEMENT TO THE TRIAL PROCESS. Newark, NJ: LexisNexis, 2002.