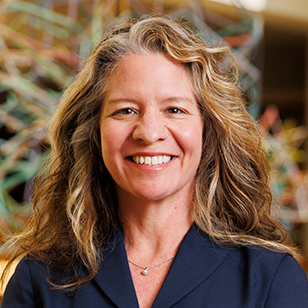 Email:

Phone:

(812) 855-8886

Location:

Baier Hall 279
Secretary Contact:

Name:

Kim Hughes

Phone:

812-855-8884

Email:
Education
University of Michigan B.A. 1993
Harvard University J.D. 1998
Background
Documentary film director and executive producer
Executive Associate Dean (2019-2020; 2022)
Associate Dean for Research and Academic Affairs (2017-2019)
Associate Vice Provost for Faculty and Academic Affairs (2014-2017)
Founding Associate Director, IU Center for Documentary Research & Practice (2015 to present)
Director, IU Ph.D. Minor in Human Rights Program, (2010-2014)
Visiting Professor and Researcher, Universidad de los Andes, Bogotá, Colombia (1998-1999)
Corporate Attorney, Clifford Chance, London and New York (1997-2001)
Experience with a number of human rights and community development organizations and NGOs in Latin America (1993-1999)
Biography
Christiana Ochoa's research seeks to understand how economic activity impacts human and ecological well-being. Her theoretical and empirical research relies on international and comparative law, particularly in the fields of Business & Human Rights, Law & Development, International Finance, and Foreign Direct Investment. She brings her field work—as well as her practice experience at the global law firm Clifford Chance and with a number of human rights and humanitarian non-governmental organizations in Latin America—to her research questions and classroom teaching. She teaches Contracts as well as International Law, International Business Transactions, Human Rights, and Law & Development.
Her scholarship in these areas has been published and is forthcoming in the Yale Journal of International Law, Harvard International Law Journal, Virginia Journal of International Law, Michigan Journal of Environmental & Administrative Law, Duke Journal of International & Comparative Law, and Human Rights Quarterly, among others. Her work has also been published internationally, including in Germany, Colombia, and Korea. Her first documentary film, Otra Cosa No Hay (There is Nothing Else), was completed in 2014, received film festival acclaim, and has been viewed by audiences around the world.
Professor Ochoa has been recognized for her research, teaching, and service, and has held numerous administrative positions at the Law School, campus and university level. In 2018, she was named an Indiana University Class of 1950 Herman B Wells Endowed Professor. Individually, and as part of research teams, she has won competitive funding from numerous sources, including from the Mellon Foundation and the U.S. Department of Education. In 2015, she was a co-PI for a prestigious Sawyer Seminar on Documentary Media and Historical Transformations. Within the Law School, she has served as Executive Associate Dean, Associate Dean for Research and Faculty Affairs, and as Latin America Program Director for the Stewart Center on the Global Legal Profession. She has held campus-wide leadership positions, including as Associate Vice Provost for Faculty and Academic Affairs and as a founding Associate Director of the Center for Documentary Research and Practice. At the university level, she is the founding Academic Director of the IU Mexico Gateway, IU's only office in Latin America. She has also served on various committees for AALS and ASIL.
In The Media
Wrote "Ochoa: IU Maurer's commitment to providing legal services," The Indiana Lawyer ( 11-22-2023 )
Quoted in "Law schools adjust to affirmative action ruling: Admissions processes tweaked to comply with US Supreme Court opinion," The Indiana Lawyer ( 10-11-2023 )
Quoted in "IU Maurer partners with IU Northwest on new Law Scholars program," Indiana Lawyer ( 07-07-2023 )
Quoted in "IU Northwest, Maurer School of Law partner on law scholars program," NWI Life ( 06-27-2023 )
Mentioned in "The Supreme Court's biggest decisions are coming. Here's what they could say," The Indiana Lawyer ( 06-26-2023 )
Quoted in "Ochoa, Big Ten law deans pledge support for diversity ahead of SCOTUS affirmative action ruling," The Indiana Lawyer ( 06-22-2023 )
Mentioned in "Law Deans Pledge Commitment to Diversity Ahead of US Supreme Court Affirmative Action Ruling," Law.com ( 06-22-2023 )
Quoted in "'Radical turn away' from admissions tests? Deans say claims of increased diversity may be unfounded," The Indiana Lawyer ( 04-12-2023 )
Mentioned in "Greater civic health or lower standards? The debate over a new Purdue law school," The Statehouse File ( 03-28-2023 )
Wrote "Recognizing IU Maurer alumnae who have made a difference," The Indiana Lawyer ( 03-15-2023 )
Co-write "Plans for deep seabed mining pit renewable energy demand against ocean life in a largely unexplored frontier," The Conversation ( 01-17-2023 )
Quoted in "Indiana law schools undecided on joining U.S. News boycott," Inside Indiana Business ( 12-01-2022 )
Quoted in "Law schools reevaluate participation in U.S. News ranking after Yale and Harvard withdrawals," Indiana Public Media ( 11-29-2022 )
Wrote "Dean's Desk: The IU Maurer School of Law and the Indiana Supreme Court," The Indiana Lawyer ( 11-23-2022 )
Interviewed in "'I really love this law school': Q&A with new IU Maurer dean Ochoa," The Indiana Lawyer ( 11-09-2022 )
Quoted in "New Dean of Maurer signifies continued growth to IU community," Indiana Daily Student ( 10-27-2022 )
Mentioned in "Christiana Ochoa selected as new dean of IU Maurer law school," Indiana Business Journal ( 10-13-2022 )
Quoted in "Interim IU Maurer dean Ochoa takes reins of law school," The Indiana Lawyer ( 08-17-2022 )
Mentioned in "Next Week Will See Influx of New Law Deans Across the Country," Law.com ( 06-24-2022 )
Mentioned in "Ochoa named interim dean of IU Maurer," The Indiana Lawyer ( 04-27-2022 )
Quoted in "The lawyer who took on Chevron -- and now marks his 600th day under house arrest," The Guardian ( 03-28-2021 )
Selected Works
Documentary Film
Otra cosa no hay (There is Nothing Else) (2014) explores the roles that law, politics, and protest play in communities when gold attracts the attention of foreign mining companies, and, immediately after, becomes a cause célèbre of environmental activists aiming to protect its water from mining-related contamination.
Publications
Deals in the Heartland, 107 MINN. L. REV. 1055 (2023).
Nature's Rights, 11 MICH. J. ENV. & ADMIN. L. 39 (2022).
Contracts on the Seabed, 46 YALE JOURNAL OF INTERNATIONAL LAW 103 (2021).
Business & Human Rights: Optimism and Concern from the U.S. Perspective (translated for Korean audience), 8 LAW & BUSINESS RESEARCH 3 (법과기업연구) (2018).
Generating Conflict: Gold, Water and Vulnerable Communities in the Colombian Highlands, NATURAL RESOURCES AND SUSTAINABLE DEVELOPMENT: INTERNATIONAL ECONOMIC LAW PERSPECTIVES Routledge Press (Tan & Foundez, eds., Edward Elgar Publishing 2017).
Regulating Conflict in the Context of Ignorance: An Analysis of U.S. Conflict Minerals Legislation (co-author, with Patrick Keenan), GOETTINGEN JOURNAL of INTERNATIONAL LAW (2011).
The Future of Corporate Accountability for Violations of Human Rights, ASIL PROCEEDINGS OF THE 103RD ANNUAL MEETING 291 (2010).
Disintegrating Customary International Law: Reactions to Withdrawing from Custom, 21 DUKE JOURNAL OF COMPARATIVE & INTERNATIONAL LAW (2010).
The Human Rights Potential of Sovereign Wealth Funds, 40 Georgetown Journal of International Law 1151 (2009) (with Patrick Keenan).
The 2008 Ruggie Report: A Framework for Business and Human Rights, 12 AMERICAN SOCIETY OF INTERNATIONAL LAW INSIGHTS, Issue 12 (June 18, 2008).
From Odious Debt to Odious Finance: Avoiding the Externalities of a Functional Odious Debt Doctrine, 49 HARVARD INTERNATIONAL LAW JOURNAL 109 (2008).
Guatemala's Gender Equality Reforms: CIL in the Making, 83 INDIANA LAW JOURNAL 1333 (2008).
The Relationship of Participatory Democracy to Participatory Law Formation, 15 INDIANA JOURNAL OF GLOBAL LEGAL STUDIES 5 (2008).
The Individual and Customary International Law Formation, 48 VIRGINIA JOURNAL OF INTERNATIONAL LAW 119 (2007).
Companies, International Trade and Human Rights (Book review), 28 HUMAN RIGHTS QUARTERLY 289 (2006).
Towards a Cosmopolitan Vision of International Law: Identifying and Defining CIL Post Sosa v. Alvarez-Machain, 74 UNIVERSITY of CINCINATTI LAW REVIEW 105 (2006).
Access to U.S. Federal Courts as a Forum for Human Rights Disputes: Pluralism and the Alien Tort Claims Act, 12 INDIANA JOURNAL OF GLOBAL LEGAL STUDIES (2005). (Reprinted in PLURALISM IN INTERNATIONAL LAW, ICFAI Press, India).
A full list of publications available on CV.
Areas of Expertise
Human rights law
International law
Law and Development