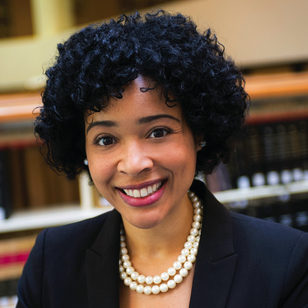 Email:

Phone:

(812) 856-0694

Location:

Baier Hall 261
Secretary Contact:

Name:

Collin Vonderahe

Phone:

812-855-6238

Email:
Education
Spelman College B.A. 2005
Duke University M.A. 2008
Duke University School of Law J.D. 2008
Biography
Jessica M. Eaglin is a Professor of Law at Indiana University Maurer School of Law. Her research examines the expansion of technical legal practices in criminal administration as response to the economic and social pressures of mass incarceration. She is a leading expert on algorithms in criminal sentencing. Her articles and essays have been published with the Cornell Law Review, Stanford Law Review Online, and Washington University Law Review, among other journals. 
Prior to joining the Maurer School of Law faculty, Professor Eaglin was counsel in the Justice Program at the Brennan Center for Justice at NYU School of Law, where she assisted in a national campaign aimed at addressing mass incarceration in the United States. She clerked with the Honorable Damon J. Keith for the Sixth Circuit Court of Appeals. Professor Eaglin began her law career as a Litigation Associate at Simpson Thacher & Bartlett, LLP in New York City.
Selected Works
To "Defund" the Police, 73 STANFORD LAW REVIEW ONLINE 120 (2021) (invited contribution).
The Perils of "Old" and "New" in Sentencing Reform, 76 N.Y.U. ANNUAL SURVEY OF AMERICAN LAW (forthcoming 2021) (invited contribution).
When Critical Race Theory Enters the Law & Technology Frame, 26 MICH. J. RACE & LAW 151 (2021) (invited contribution).
Population-Based Sentencing, 106 CORNELL L. REV. 353 (2021).
The Categorical Imperative as a Decarceral Agenda, 104 MINN. L. REV. 2715 (2020) (invited contribution).
Technologically Distorted Conceptions of Punishment, 97 WASH U.L. REV. 483 (2019).
Constructing Recidivism Risk, 67 EMORY L.J. 59 (2017).
Predictive Analytics' Punishment Mismatch, 14 I/S J. L & POL'Y 87 (2017) (invited contribution).
The Drug Court Paradigm, 53 AM. CRIM. L. REV. 595 (2016).
Improving Economic Sanctions in the States, 99 MINN. L. REV. 1837 (2015).
Areas of Expertise
Criminal law
Evidence
Federal sentencing law