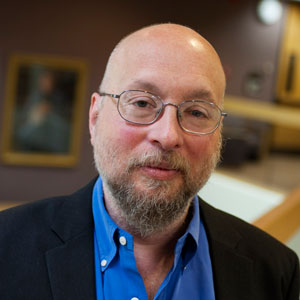 Email:

Phone:

(812) 855-7216

Location:

Jerome Hall Law Library 105B
Education
Indiana University B.S. 1977
Indiana University M.L.S 1980
Indiana University Maurer School of Law J.D. 1989
Biography
Keith Buckley was appointed reference librarian in 1980 and has set the standard for excellence in the Jerome Hall Law Library's public services department. Whether it concerns the most current legal precedent or obscure Latin legal phrases, students and faculty have come to rely on Buckley's expertise. In 1999, he was named collection development librarian, and in 2012 he was appointed assistant director for public services. He was appointed interim director in January 2017 upon the retirement of Linda Fariss and named director and senior lecturer effective January, 2018. He retired in 2019.
He teaches Advanced Legal Research, Legal Research in the Legal Research and Writing Program and Legal Bibliography and Law Library Administration through the School of Informatics and Computing's Department of Information and Library Science.
Buckley is currently researching the treatment of women and families under the Civil War pension statutes during the early 20th century. His other areas of study include 19th-century gravestone carving and the writings of the 13th-century Zen master, Eihei Dogen.
Selected Works
Monks, Leander J., in INDIANA'S 200: THE PEOPLE WHO SHAPED THE HOOSIER STATE (Linda C. Gugin & James E. St. Clair, eds.) (Indiana Historical Society Press, 2015).
The Growing Web of Catastrophe: The Story of a Mad Librarian, in REVOLTING LIBRARIANS REDUX (Katia Roberto and Jessamyn West, eds.) (McFarland & Co., 2003).
LEGAL RESEARCH: TRADITIONAL SOURCES, NEW TECHNOLOGIES (with Collen K. Pauwels & Linda K. Fariss). (Phi Delta Kappa Educational Foundation, 1999).
Book Review.

Using Computers in Legal Research: A Guide to Lexis and Westlaw

, 18 ONLINE 105 (November/December 1994).
150 YEARS OF RESEARCH: A BIBLIOGRAPHY OF THE INDIANA UNIVERSITY SCHOOL OF LAW FACULTY (co-compiler) (Indiana University School of Law, 1992).
INDIANA STONECARVER: THE STORY OF THOMAS R. REDING (with Ann Nolan) (Indiana Historical Society, 1984).
A Bibliography on Sports and the Law, in LAW AND AMATEUR SPORTS (Ronald J. Waicukauski, ed.) (Indiana University Press, 1982).
AN INTRODUCTION TO INDIANA STATE PUBLICATIONS FOR THE LAW LIBRARIAN (with Linda K. Fariss) (American Association of Law Libraries, 1982).