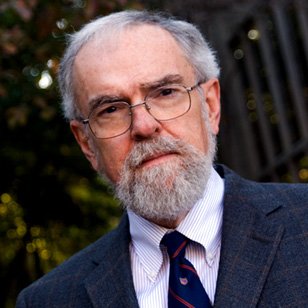 Education
Ohio State University B.A. 1968
Ohio State University J.D. 1970
Biography
Terry Bethel was managing editor of the Ohio State Law Journal and was elected to the Order of the Coif at The Ohio State University. Highly regarded for both his scholarship and practical expertise in the area of labor arbitration, Professor Bethel has been appointed to many noteworthy public and professional service forums. He is co-author of Common Law of the Workplace. The book was a project of the National Academy of Arbitrators, of which he is a member. He previously chaired Indiana's Public Employee Relations Board, at the request of the late Gov. Frank O'Bannon.
But it is his outstanding work in the classroom, especially the sharp-witted, intellectual encounters in his Contracts course, for which Bethel achieved renown at Indiana Law. He has been honored with the Gavel Award, given by students for contributions to the graduating class. Bethel also served as associate dean for academic affairs and as acting dean during the academic year 1990-91. He retired in 2010.
Selected Works
Negligent Retention and Arbitration: The Effect of A Developing Tort on Traditional Labor Law, 2000 JOURNAL OF DISPUTE RESOLUTION 215 (2000).
Wages and Hours in THE COMMON LAW OF THE WORKPLACE (Theodore St. Antoine, Ed.). Washington DC: BNA, 1998.
The Failure of Gissel Bargaining Orders, 14 HOFSTRA LABOR & EMPLOYMENT LAW JOURNAL 423 (1997).
Wrongful Discharge: Litigation or Arbitration?, 1993 JOURNAL OF DISPUTE RESOLUTION 289 (1993).
Recent Employment Law Decisions of the Seventh Circuit and the Indiana Courts (1992 Survey of Recent Developments in Indiana Law), 26 INDIANA LAW REVIEW 1065 (1993).
Labor and Employment Discrimination Cases in the Supreme Court, 1989 Term (with Julia Lamber), 25 UNIVERSITY OF SAN FRANCISCO LAW REVIEW 325 (1991).
Recent Supreme Court Employment Law Decisions, 1990-91, 17 UNIVERSITY OF DAYTON LAW REVIEW 33 (1991).
A Profit Model of Gissel Bargaining Orders, 10 JOURNAL OF LABOR RESEARCH 255 (1989).