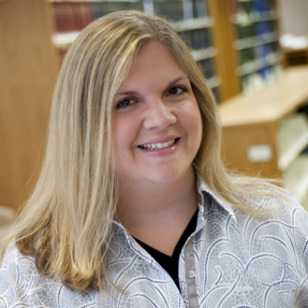 Email:

Phone:

(812) 855-6613

Location:

Jerome Hall Law Library 105B
Education
Indiana University M.L.S 2012
William & Mary School of Law J.D. 2010
College of William & Mary B.A. 2007
Biography
Ashley Ahlbrand joined the law library faculty and staff as the educational technology librarian in 2012. She was appointed assistant director for public services in December 2017. She also administers and co-teaches the Advanced Legal Research course. She served as interim director from October 2019–June 2020.
Ahlbrand's research is divided between teaching methodologies for the modern legal classroom and the use and ethics of existing and emerging technologies in libraries, course curricula, and the legal profession. She is a member of the American Association of Law Libraries, the American Bar Association, and the Indiana State Bar Association.
Selected Works
Thinking on Your Feet: Reflections of a First-Time Online Instructor, 25 PERSPECTIVES: TEACHING LEGAL RESEARCH & WRITING 114-24 (Spring 2017).
Tweeted Out: Management Tools to Prevent Social Media from Monopolizing Your Time, 18 AALL SPECTRUM 14-16 (March 2014).
The "Social" Side of Law Libraries: How are Libraries Using and Managing Social Media?, 17 AALL SPECTRUM 12-13, 20 (March 2013).
Degree Pedigree: Assessing the Effect of Degree-Granting Institutions' Ranks on Prospective Employment at Academic Law Libraries, 104 LAW LIBR. J. 553-68 (Winter 2012) (co-authored with Michael Johnson).
"Free" Access to Government Information: How the Current Budget Crisis May Affect Government Publishing and Access to Government Information, 39 DOCUMENTS TO THE PEOPLE 26- 32 (Winter 2011).