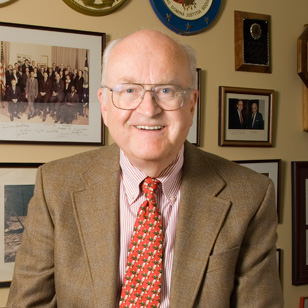 Email:

Phone:

(812) 855-4079

Location:

Baier Hall 316
Education
Michigan State University B.S. 1964
Harvard University J.D. 1967
Background
Dean, IU O'Neill School of Public and Environmental Affairs (1988-2000)
U.S. Environmental Protection Agency, Deputy Administrator and General Counsel
U.S. Environmental Protection Agency, Chief of Staff to Administrator William Ruckelshaus
Biography
Professor Barnes is a nationally recognized expert in environmental law and policy and the co-author of two leading textbooks in business law. At Indiana Law and at the IU O'Neill School of Public and Environmental Affairs, where he served as dean from 1988-2000, Barnes teaches about environmental law, environmental policy, ethics and the public official, and law and public policy. He previously taught in the business schools at Indiana University and Georgetown University.
In 1970, Barnes participated in the formation of EPA, serving as chief of staff to the first administrator, William Ruckelshaus, and later as EPA General Counsel and Deputy Administrator. He also served as General Counsel of the U.S Department of Agriculture, as a trial attorney in the Department of Justice, and as a partner in a major Washington, D.C. law firm.
He has written, testified and spoken extensively on environmental issues, consults on a variety of environmental matters, and mediates environmental disputes. He currently chairs the EPA Environmental Finance Advisory Board and is a member of the Department of Energy's Environmental Management Advisory Board.
Barnes is also a fellow of the National Academy of Public Administration. He recently served on four Academy panels to provide advice (1) to the Department of Homeland Security on steps to protect the country during the presidential transition; (2) to the Executive Branch on processes for developing environmental and natural resource indicators; 3) to Congress on desirable changes in how the U.S. Army Corps of Engineers should change its method of prioritizing water resource projects; and (4) to the EPA on how it might better factor environmental justice considerations into its permitting processes.
During his tenure as dean of the SPEA, U.S. News & World Report ranked the institution third among public affairs programs and first in environmental policy. He was appointed an emeritus professor in 2021.
Selected Works
LAW FOR BUSINESS, 14th ed. (with Eric L. Richards and Tim Lemper)  McGraw-Hill 2020; 13th ed. (with Terry M. Dworkin and Eric L. Richards) 2017; 12th ed. 2014;  11th ed. 2011; 10th ed. 2008; 9th ed. 200); 8th ed. 2002; 7th ed. 1999; 6th ed. 1996; 5th ed. 1994; 4th ed. 1991; 3rd ed. 1987; Revised edition 1983; 1st ed. 1980.
BUSINESS LAW: THE ETHICAL, GLOBAL AND E-COMMERCE ENVIRONMENT,  17th ed. (with Arlen Langvardt, et. al.) McGraw-Hill/Irwin 2018; 16th ed. 2016 (with Jane P. Mallor, et al.).15th ed. 2013; 14th ed. 2010.  Also co-author of two earlier editions.
Implementing Presidential Policy Agendas Administratively: A View from the Inside, 69 PUBLIC ADMINISTRATIVE REVIEW 586 (2009).
BUSINESS LAW AND THE REGULATORY ENVIRONMENT: CONCEPTS AND CASES, 11th ed. (with Jane P. Mallor, et al.). Boston: Irwin/McGraw-Hill, 2001 and 5 earlier editions.
Business Law: Principles and Cases, Lusk, Hewitt, Donnell and Barnes; published by Richard D. Irwin Co. (5th edition 1982, 4th edition 1978, 3rd edition 1974, 2nd edition 1970).
Law of Commercial Transactions and Business Associations, Bowers, Mallor, Barnes, Phillips and Langvardt; published by Richard D. Irwin Co. (1st Edition 1995).
"Air Pollution Control in the United States" in Environmental Law and Policy in the European Union and the United States (R. Baker, editor); published by Praeger (1997).