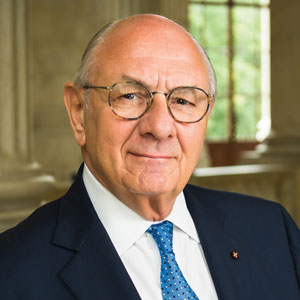 Education
Valparaiso University B.A. 1961
Indiana University Maurer School of Law LL.B. 1964
Biography
Lowell E. Baier received his B.A. in economics and political science from Valparaiso University in 1961 and completed his law degree in 1964. After graduation he practiced law in Washington D.C., specializing in commercial real estate development. Over time he moved from the practice of law to the business side of commercial real estate development, eventually starting his own company. Today he is the president of Baier Properties, Inc., a highly successful developer of office space and shopping centers based in Bethesda, Maryland. He is the namesake of Baier Hall, the Law School's main building, named in his honor in 2015 following his $20 million gift to the school. The school's Jerome Hall Law Library is named after Baier's favorite professor and mentor, at Baier's request.
Baier's passion for wildlife conservation began when he was a child spending summers with his grandfather in Montana and has continued throughout his life. In the late 1960s, not long after arriving in Washington D.C., Baier helped organize the National Capital Area Chapter of Safari Club International. He is also one of 20 founding members of the Foundation for North American Wild Sheep, which has funded over $1 million annually to re-establish historically suitable habitats for these animals.
For many years Baier has been a key player in the Boone and Crockett Club, a non-profit conservation organization founded by Theodore Roosevelt in 1887. He has served as its executive vice president and president, and has played a principal role in establishing a Boone and Crockett Club post-graduate wildlife program at the University of Montana and in establishing the National Conservation Leadership Institute for mid-career government wildlife managers. In 2007, while serving as executive vice president, he led a national campaign to preserve Theodore Roosevelt's Elkhorn Ranch in North Dakota. In addition, he played the lead role in drafting President George H.W. Bush's wildlife conservation agenda, was a delegate to the White House Conference on Cooperative Conservation, and served on the U.S. Forest Service Centennial Steering Committee.
Baier has been recognized many times for his extraordinary efforts toward conservation. In 2008 he was honored as Budweiser Conservationist of the Year by Budweiser and the National Fish and Wildlife Foundation. In 2010 Outdoor Life selected Mr. Baier as the top conservationist in the third-annual "OL 25" list of people who have had the greatest positive impact on hunting, fishing and conservation. He was also recognized by the Law School in 2008 when he was presented with the school's Distinguished Service Award. He received the Law School's highest honor in 2014 when he was inducted into its Academy of Law Alumni Fellows.
While serving as affiliated visiting scholar at the Conservation Law Center, Baier will be researching a forthcoming book on the history of the Endangered Species Act.
Selected Works
Inside the Equal Access to Justice Act: Environmental Litigation and the Crippling Battle over America's Lands, Endangered Species, and Critical Habitats (Rowman & Littlefield, 2016).

Theodore Roosevelt: Hunter-Conservationist (contributor) (Boone and Crockett Club, 2009).