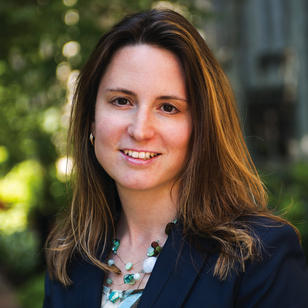 Email:

Phone:

(812) 856-1082

Location:

Baier Hall 314
Education
Millersville University of Pennsylvania B.A. 1997
Georgetown University M.S. 1999
University of Pennsylvania Law School J.D. 2003
University of Pennsylvania Annenberg School for Comm. Ph.D. 2007
Background
Earned her J.D. magna cum laude from the University of Pennsylvania School of Law; elected to the Order of the Coif; and served as Senior Articles Editor for the University of Pennsylvania Journal of Constitutional Law
Clerk, Hon. Richard D. Cudahy, U.S. Court of Appeals for the Seventh Circuit, Chicago (2004-2005)
Climenko Fellow and Lecturer on Law, Harvard University (2005-2007)
Research Associate, Capital Punishment Research Initiative, University of Albany School of Criminal Justice
Recipient, Federalist Society Searle Young Legal Scholars Research Fellowship, 2011-12
Recipient, Indiana University Trustees' Teaching Award, 2015
Biography
Professor Madeira joined the Indiana Law faculty in 2007. Her scholarly interests involve empirical research; the role of emotion in law; the sociology of law; law, medicine, and bioethics; and the Second Amendment. Her most recent book, Taking Baby Steps: How Patients and Fertility Clinics Collaborate in Conception (University of California Press, 2018), takes readers inside the infertility experience, from dealing with infertility-related emotions to forming treatment relationships with medical professionals, confronting difficult decisions, and negotiating informed consent. Based on a wealth of qualitative and quantitative data (130 patient interviews, 83 interviews with reproductive medical professionals, and 267 patient surveys), Madeira investigates how women, men, and their care providers can utilize trust to collaboratively negotiate infertility's personal, physical, spiritual, ethical,  medical, and legal minefields.  
Madeira's first book, Killing McVeigh: The Death Penalty and the Myth of Closure, applies collective memory to criminal prosecution and sentencing, exploring the ways in which victims' families and survivors came to comprehend and cope with the Oklahoma City bombing through membership in community groups as well as through attending and participating in Timothy McVeigh's trial and execution.
Madeira also specializes in assessing how multimedia technology can improve patient education and decision making. She is principal investigator on a grant (with Dr. Basia Andraka-Christou) to design and implement S.U.N., a multimedia web portal integrating educational videos and a mobile health tracking application for college students that addresses alcohol, marijuana, opioid, and stimulant use disorders. In addition, she is involved in assessing the efficacy of commercially available applications in reproductive medicine, gastroenterology, and other areas of medical practice.
Finally, Madeira is currently involved in a research project assessing how Americans talk about firearms and associated benefits, risks, rights, and regulations, especially how doctor-patient discussions of firearm ownership and access impact treatment relationships and the provision of medical care across practice fields. In prior publications, Madeira has investigated a wide variety of topics, including the effects of legal proceedings, verdicts, and sentences upon victims' families; the role of empathy in personal injury litigation; law and semiotics; and the impact of recent developments in capital victims' services upon the relationship between victims' families and the criminal justice system.
After graduating from law school and completing her Ph.D. coursework, Professor Madeira clerked for the Hon. Richard D. Cudahy at the U.S. Court of Appeals for the Seventh Circuit. She then came to Harvard as a Climenko Fellow and lecturer in law, where she taught legal research and writing as well as a seminar on the cultural life of capital punishment. Madeira also recently served as a research associate at the Capital Punishment Research Initiative at the School of Criminal Justice, University at Albany, State University of New York.
In The Media
Quoted in "IU experts say Biden's new vaccine mandates for large businesses protect employees' safety," Indiana Daily Student ( 09-14-2021 )
Quoted in "Law professor says Biden vaccine mandate is 'completely constitutional'," WDRB News ( 09-10-2021 )
Quoted in "DNA Test Reveals Unexplainable Fertility Clinic Mix-Up; Families Seek Damages," Above the Law ( 09-01-2021 )
Quoted in "Biden's requirement of COVID-19 vaccinations or testing for federal workers is legal, experts say," Fox 59 ( 07-29-2021 )
Quoted in "A 22-year-old lawsuit may generate unprecedented access to gun industry secrets," The Trace ( 07-15-2021 )
Quoted in "'All part of the bargain': Hoosiers respond to dismissal of complaint against hospital's vaccine requirement," The Indiana Lawyer ( 07-07-2021 )
Quoted in "Indiana nursing homes legally protected amid soaring Medicare death rates," Indiana Public Media ( 06-24-2021 )
Quoted in "Inseminated by doctor who used own sperm, woman says conduct 'unconscionable and depraved'," Louisville Courier-Journal (Sub. Req.) ( 06-23-2021 )
Quoted in "Marion County businesses react to loosening restrictions on masks, capacity," Fox 59 ( 06-08-2021 )
Quoted in "Lawmakers challenge IU's COVID-19 immunization requirement," Indiana Public Media ( 05-24-2021 )
Quoted in "COVID-19 vaccination cards could act as proof to remove masks," Fox 59 ( 05-18-2021 )
Quoted in "Critics say Indiana COVID-19 law allows nursing home neglect," The Associated Press ( 05-08-2021 )
Quoted in "Judge gives police 48 hours to report taking firearms from anyone considered a danger," WISH-TV ( 05-07-2021 )
Quoted in "Holcomb signs COVID-19 liability protections that critics say will allow nursing home neglect," The Indianapolis Star ( 05-01-2021 )
Quoted in "Does this Indiana bill awaiting Holcomb's signature let nursing homes get away with neglect?," The Indianapolis Star ( 04-23-2021 )
Quoted in "Does Indiana have the strongest red flag law in the country?," WTHR ( 04-22-2021 )
Quoted in "What justice may look like in the FedEx shooting," WIBC ( 04-18-2021 )
Quoted in "Mass shootings are on the rise again," WTHI ( 04-17-2021 )
Quoted in "Opinion: Children are not protected in Indiana's justice system. SB 368 can change that.," Indiana Daily Student ( 04-01-2021 )
Quoted in "N4T investigators: Fertility bill passes House Judiciary Committee," KVOA Tucson ( 03-11-2021 )
Quoted in "An Indiana House bill could make access to abortion harder in the state," Indiana Daily Student ( 03-05-2021 )
Quoted in "Is deceased Cincinnati fertility doctor the missing link for these newly discovered half-siblings?," WCPO 9 ( 03-03-2021 )
Quoted in "Bill to repeal the need for a license to carry a handgun awaits committee action," The StatehouseFile.com ( 02-11-2021 )
Quoted in "Indiana legislature debates bill that would allow Hoosiers to carry handguns without permits," Indiana Daily Student ( 02-11-2021 )
Quoted in "Indiana lawmakers suggest getting rid of gun carry permits," CBS 4 ( 02-10-2021 )
Quoted in "Should Indiana eliminate gun carry permits?," Fox 59 ( 02-10-2021 )
Quoted in "COVID-19 Liability Protection Bill passes Indiana Senate, prompting concern from some workers," Indiana Public Media ( 01-29-2021 )
Quoted in "Fertility doctors used their sperm to get patients pregnant. The children want justice," Vice ( 01-06-2021 )
Quoted in "At-home DNA tests bring reckoning to illicit fertility doctors," Bloomberg Law ( 12-23-2020 )
Quoted in "What shocking revelation emerged while 'Baby God' filmmaker worked on documentary about infamous fertility doctor?," Oxygen ( 12-04-2020 )
Quoted in "Texas doctor fathered 7 children with fertility patients because frozen donor sperm wasn't working," Newsweek ( 11-25-2020 )
Quoted in "Texas fertility doctor fathered 7 children by patients under his care, at-home DNA kits show," WFAA ( 11-24-2020 )
Quoted in "Woman uncovers family secret, DNA test results trace father back to mother's fertility doctor," CBS 8 ( 11-17-2020 )
Quoted in "N4T investigators: Fertility fraud?," KVOA ( 11-12-2020 )
Quoted in "Home DNA test uncovers secret: Fertility doctor accused of using his own sperm on Washington patient," KIRO 7 News ( 11-09-2020 )
Quoted in "IVF and sex: How the treatment hurts couples' sex lives," The Huffington Post ( 11-01-2020 )
Wrote an article titled "VOTE -- What's at stake: Guns," Bloom Magazine ( 10-13-2020 )
Quoted in "Bar owners are suing over COVID restrictions. Here's why ruling in their favor is unlikely," The Indianapolis Star ( 09-24-2020 )
Mentioned in "Fertility fraud filings flourish … and the facts get funkier," Above The Law ( 09-23-2020 )
Quoted in "Conception deception," Texas Observer ( 09-15-2020 )
Quoted in "Why doesn't Indiana punish violators of its coronavirus mask mandate?," Indiana Public Media ( 08-20-2020 )
Quoted in "Does governor have authority to enforce mask mandate? Legal experts weigh in," Indiana Public Media ( 08-07-2020 )
Quoted in "Statewide mask order may boost compliance, even without explicit penalties," WIBC ( 07-27-2020 )
Quoted in "Federal executions resumed in Terre Haute after 17 years. Here's what you should know.," The Indianapolis Star ( 07-22-2020 )
Quoted in "Fairgrounds Fun Park faces challenge from online petition seeking to cancel it," WISH-TV Indianapolis ( 07-02-2020 )
Quoted in "Can Monroe County really impose tougher COVID-19 restrictions than the state?," Indiana Public Media ( 05-06-2020 )
Wrote a blog post titled "News on the fertility fraud front: Mortimer v. Rowlette raises possibility of punitive damages," Bill of Health (Harvard Petrie-Flom Center) ( 04-22-2020 )
Quoted in "Insemination fraud case scores win," Above the Law ( 04-22-2020 )
Quoted in "Professor who studies phenomenon'of fertility doctors who impregnate their unwitting clients reveals their motivations range from being 'like a rapist's' to a belief they're 'helping desperate patients'," The Daily Mail ( 04-09-2020 )
Interviewed about "Gun laws in America: Through an expert lens," WFHB ( 02-20-2020 )
Quoted in "The US is experiencing an explosion of fertility fraud legislation. And that's a good thing," Above the Law ( 02-12-2020 )
Quoted in "When Dad turns out to be the fertility doctor," The New York Times ( 12-11-2019 )
Quoted in "Execution hold stems from standards conflict," Indiana Public Media ( 11-21-2019 )
Interviewed in "Colorado lawmakers looking into outlawing 'fertility fraud'," 9News (Denver) ( 11-07-2019 )
Quoted in "Fertility doctors using their own sperm for fertilization leads to 'fertility fraud' legislation in three states," Newsweek ( 11-05-2019 )
Quoted in "East Texas doctor accused of 'fertility fraud' may face unethical conduct, but not treatment, investigation," The Dallas Morning News ( 10-30-2019 )
Quoted in "East Texas fertility doctor likely won't be investigated for using his sperm to impregnate a woman," The Dallas Morning News ( 10-29-2019 )
Quoted in ""I can't believe it's my life": A Grand Junction doctor is accused of using his own sperm to impregnate patients," The Denver Post ( 10-29-2019 )
Quoted in "Medical board declines to act against fertility doctor who inseminated woman with his own sperm," WFAA (Dallas) ( 10-28-2019 )
Quoted in "Medical board declines to act against fertility doctor who inseminated woman with his own sperm," WFAA (Dallas) ( 10-28-2019 )
Quoted in "Grand Junction fertility doctor suspected of malfeasance," CBS 4 Denver ( 10-28-2019 )
Quoted in "Did a Colorado fertility doctor use his own sperm to impregnate multiple women?," News 9 Denver ( 10-28-2019 )
Wrote an article titled "Fertility fraud: an update," American Society for Reproductive Medicine ( 10-21-2019 )
Selected Works
A Secret Weapon?: Applying Privacy Doctrine to the Second Amendment, 46 HASTINGS CONSTITUTIONAL LAW QUARTERLY 555 (2019).
Uncommon Misconceptions: Holding Physicians Accountable for Insemination Fraud, 37 LAW & INEQUALITY 45 (2019).
TAKING BABY STEPS: HOW PATIENTS AND FERTILITY CLINICS COLLABORATE IN CONCEPTION. Oakland, CA: University of California Press, 2018.
Against Seminal Principles: Ethics, Hubris, and Lessons to Learn from Illicit Inseminations(with Steven R. Lindheim and Mark V. Sauer), 110 FERTILITY AND STERILITY 1003 (Nov. 2018).
Informed Consent: More than Just "Sign Here"(with Kathryn Coyne, et.al.), 108 FERTILITY AND STERILITY 40 (July 2017).
Buyers in the Baby Market: Toward a Transparent Consumerism(with June Carbone), 91 WASHINGTON LAW REVIEW 71 (2016)
Jody Lyneé Madeira, "The Ghosts in the Machinery of Death: The Rhetoric of Mistake in Lethal Injection Reform," in Law's Mistakes (Austin Sarat, Lawrence Douglas & Martha Umphrey eds., University of Massachusetts Press) (2016)
Jody Lyneé Madeira, Laying bin Laden to Rest, in The In/Visibility of America's 21st Century Wars (Jon Simons and John Lucaites eds.) (2016)
June Carbone & Jody Lyneé Madeira, The Acceptability of Surrogacy, Washington Law Review Online (Spring 2015)
Jody Lyneé Madeira, Conceiving of Products and the Products of Conception: Theoretical Reflections on Commodification, Consumption, ART, and Abortion, ____ J. of Law, Medicine & Ethics ___ (May 2015)
Nicole K. Smith, Jody Madeira, & Heather Millard, Sexual Function and Fertility Quality of Life in Women Using In Vitro Fertilization, Journal of Sexual Medicine (2015)
Jeanna M. Mastrocinque, Jed W. Metzger, Jody Madeira, Kay Lang, Heather Pruss, Peter K. Navratil, Marla Sandys, & Catherine Cerulli, I'm Still Left Here With the Pain: Exploring the Health Consequences of Homicide on Families and Friends, Homicide Studies (June 2014)
Aborted Emotions: Regret and Relationality, 21 Mich. J. Gender & L. 1 (2014).
Clear and Ever-Present Dangers? Redefining "Closure" in a Post-9-11 World, Capital Punishment: Part of a Sustainable Criminal Justice System? (Lill Scherdin ed., Ashgate Press, 2014)
KILLING McVEIGH: THE DEATH PENALTY AND THE MYTH OF CLOSURE (NYU Press, June 2012)
"Woman Scorned?: Resurrecting Infertile Women's Decision-Making Autonomy," 71 MD. L. REV. 339 (2012)
"The Family Capital of Capital Families: Investigating Empathic Connections Between Jurors and Defendants' Families in Death Penalty Cases" ___ MICH. ST. L. REV. (2012).
"The Visibly Offensive Offender: A Semiotic Phenomenology of an Execution," LAW, CULTURE, AND VISUAL STUDIES (Richard Sherwin & Anne Wagner eds.) (Springer, 2012).
"Conceivable Changes: Effectuating Infertile Couples' Emotional Ties to Frozen Embryos Through New Disposition Options," 79 U. MO. KANSAS CITY L. REV. 315 (2010) (invited contribution to the Global Issues in Family Law Symposium at University of Missouri, Kansas City Law School).
"Why Rebottle the Genie?": Capitalizing on 'Closure' in the Capital Punishment Context, 85 IND. L. J. 1477 (2010).
When It's So Hard to Relate: Can the Legal System Mitigate the Trauma of Victim-Offender Relationships?, 46 HOUSTON L. REV. 401 (2009)
Blood Relations: Collective Memory, Cultural Trauma, and the Prosecution and Execution of Timothy McVeigh, 45 STUDIES IN LAW, POLITICS AND SOCIETY 75 (2008)
Recognizing Odysseus' Scar: Reconceptualizing Pain and Its Empathic Role in Civil Adjudication, 34 FLA. ST. U. L. REV. 41 (2006)
Lashing Reason to the Mast: Understanding Judicial Constraints on Emotion in Personal Injury Litigation, 40 UC DAVIS L. REV. 137 (2006)
Pained Sympathy for Sympathy Pains: The Reasoned Morality of Empathy in Adjudicating Suffering, 58 S.C. L. REV. 415 (2006)
The Execution as Sacrifice, in EVIL, LAW, AND THE STATE: PERSPECTIVES ON STATE POWER AND VIOLENCE (John T. Parry, ed., 2006)
A Constructed Peace: Narratives of Suture in the News Media, CANADIAN JOURNAL OF LAW AND SOCIETY 19:2 (2004) (peer-reviewed)
Areas of Expertise
Assisted reproductive technology
Children and the law
Health law
Second Amendment
Torts